Midleton CBS defeated St. Flannans Ennis by 5-16 to 1-8 in the 2022/2023 TUS Corn Aodh Uí Dhúda (Under 15 A Hurling) Final on Thursday March 2nd at Kilmallock.
---
2022/2023 TUS Corn Aodh Uí Dhúda (Under 15 A Hurling) Final
Midleton CBS 5-16 St. Flannans 1-8
Report by Ed Donnelly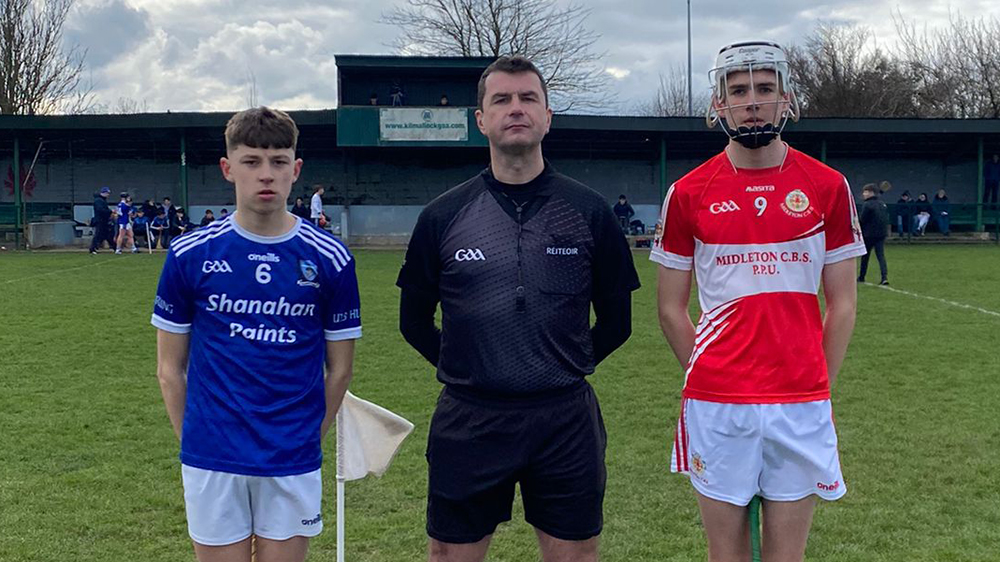 Captains Grahem Ball (St. Flannans) and Senan Carroll (Midleton) with referee John O'Halloran
Fitzgerald Park Kilmallock was the venue for the TUS sponsored Munster GAA Post Primary Schools Corn Aodh Uí Dhúda (Under 15 A Hurling) Final on Thursday afternoon.
There was a hint of spring in the air as a fine crowd descended on the Limerick venue for a meeting of two of the strongest Munster hurling nurseries.
The opening ten minutes did not give any hints to the ultimate one-sided nature of this encounter as both teams tore in to the fray from the start. Dara Kennedy opened the scoring for St. Flannans with a point from play before Midleton responded with points from play by Sam Ring (2) and Darragh Heavin. When Luke Vaughan scored a point in the 10th minute, Midleton's lead was 0-3 to 0-2.
Despite playing against the breeze in the opening half, Midleton upped the intensity at this point, suffocating any St. Flannans player in possession with an exhibition of hooking, blocking and tackling to win back possession time and time again. From one such turnover, Midleton's Cormac Deane raced through on goal and rattled the net in the 11th minute to begin a 20 minute period of absolute dominance for the Cork school.
By the 20th minute, the lead was out to 1-7 to 0-4 with Midleton's Dean Murphy scoring three points on the trot. Further Midleton goals from Deane and Murphy stretched the lead out to 3-8 to 0-4 after 23 minutes before the same two players finished the first half scoring with a goal (Murphy) and a point (Deane) just before the interval to leave the half-time score 4-8 to 0-4. The scoring burst of 4-5 to 0-2 in the final 20 minutes of the first half had all but ended this game as a contest.
To the credit of St. Flannans, they made a good start to the second half as points by Rory Ralph and Eoin Hegarty were followed by an Eoin O'Connor goal to reduce the deficit. Normal service would resume soon afterwards with a Cormac Deane pointed free was followed by an excellently taken goal by Dean Murphy in the 34th minute and that put paid to any thoughts of a St. Flannans comeback.
The Clare school would only score two further points in the game, both from frees by Dara Kennedy as both sides introduced a number of subs. The game became somewhat disjointed in the final quarter but the result was never in doubt and at the end, Midleton were jubilant on the back of a comprehensive 20 point victory.
Afterwards, Mike Nash of Munster GAA Post Primary Schools presented the cup to Midleton CBS Captain Senan Carroll.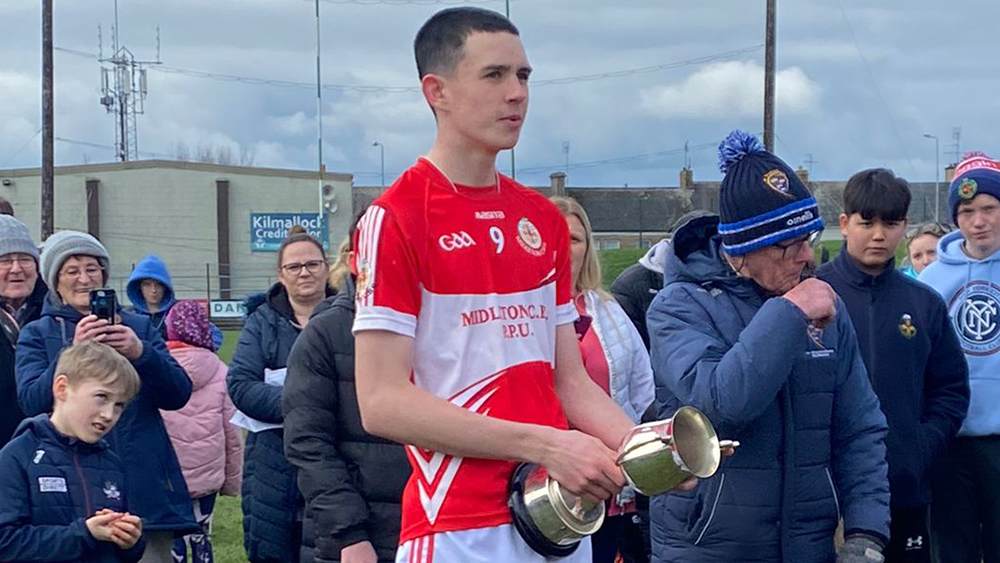 Scorers:
Midleton CBS: Cormac Deane (2-5, 0-1 free), Dean Murphy (2-4), Sam Ring (1-4, 0-2 frees), Darragh Heavin (0-2), Ben Geary (0-1)
St. Flannans: Eoin O'Connor (1-1), Dara Kennedy (0-3, 0-2 frees), Jason Keane Hayes (0-1), Rory Ralph (0-1), Luke Vaughan (0-1), Eoin Hegarty (0-1)
Referee: John O'Halloran (Limerick)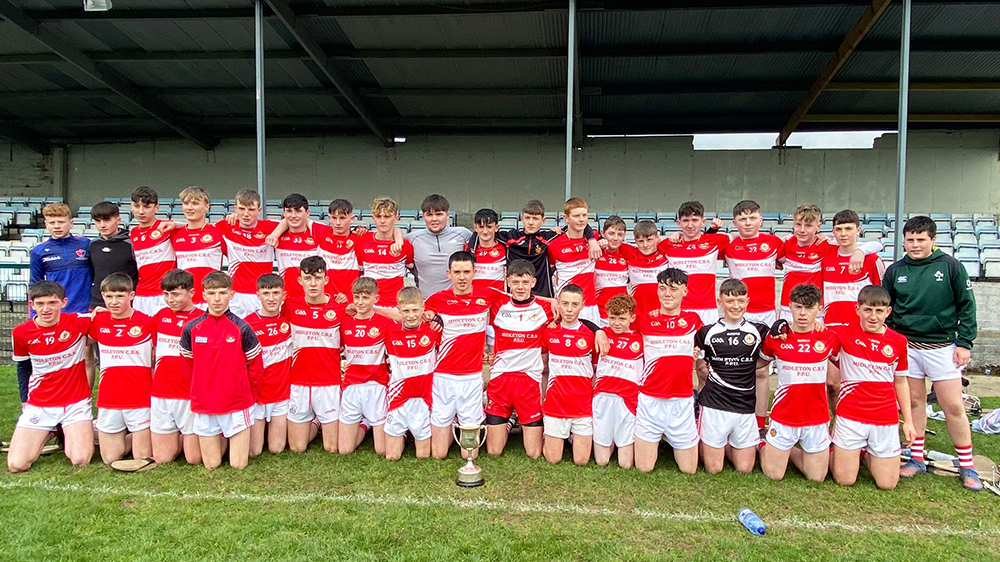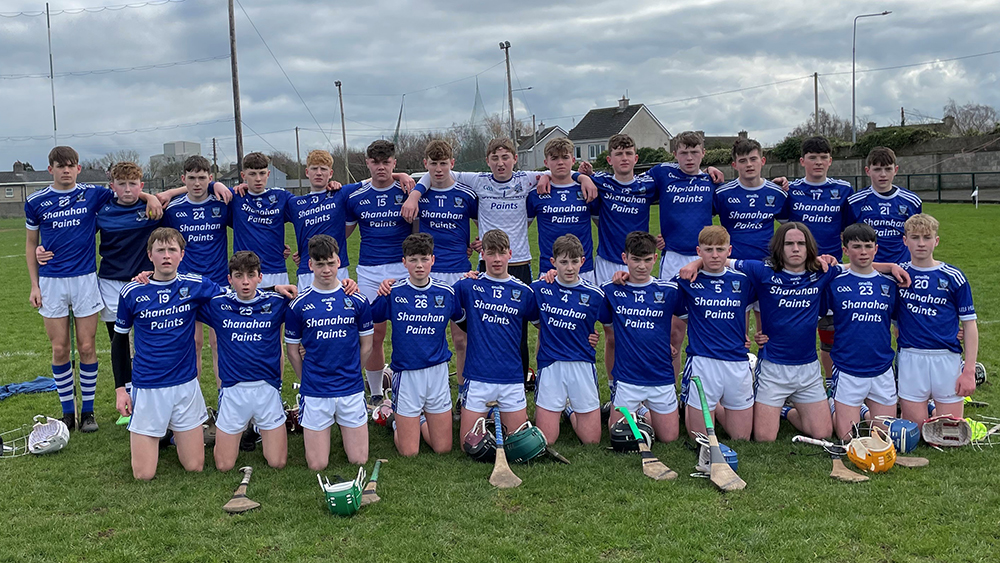 ---
Team Sheets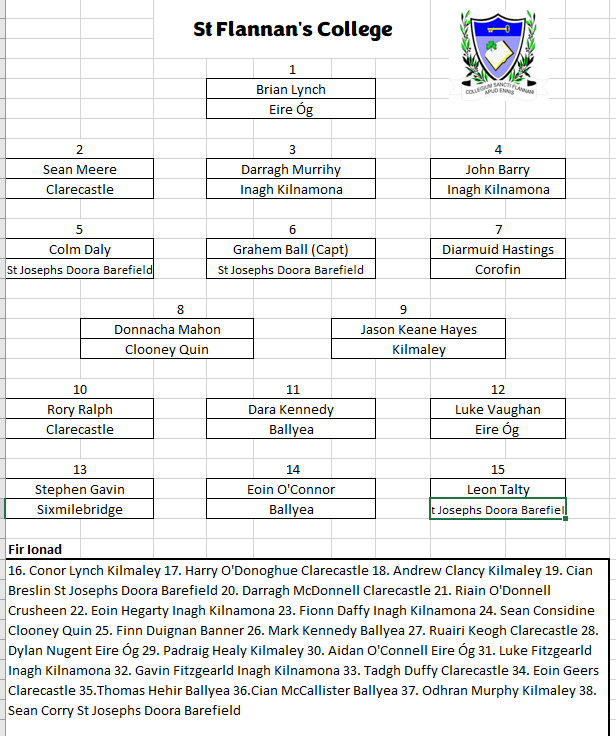 ---
Ticket Information
Price Details:
Adult: €5
Student/OAP's: €3
Primary School Students: Free
Click here to purchase tickets in advance
---
Corn Aodh Uí Dhúda
The trophy is named after Fr Hugh O'Dowd. A native of Sixmilebridge, Fr Hugh lived for hurling and trained many successful Flannans teams during his time at the famed hurling nursery. His attention to detail was second to none and he was noted for his ability to identify talent at an early age. He contributed to many successes in the 1st years competitions, Dean Ryan and Harty Cup during the course of his career in the school.