St. Patricks Castleisland defeated O'Carolan College Nobber by 2-8 to 0-11 in the Masita All-Ireland Post Primary Schools Final, Dr. Eamonn O'Sullivan Senior C Football on Saturday 11th of March at Netwatch Cullen Park Carlow.
---
Two goals from super sub John O'Connor helps St Patrick's Castleisland make history with All-Ireland title https://t.co/XdHznQOgP9

— The Kerryman (@kerryman_ie) March 11, 2023
Super sub John O'Connor scores two second half goals to help St Patrick's Castleisland win All-Ireland title
ALL-IRELAND POST-PRIMARY SCHOOLS SFC 'C' FINAL
St Patrick's Castleisland 2-8 Carolan College, Nobber (Meath) 0-11
Report by Dan Kearney for the Kerryman newspaper
The St Patrick's Castleisland crest reads Mórtas is Dochas, which translates as Pride and Hope, traits that their wonderful band of footballers displayed in abundance when they captured the All-Ireland Post-Primary C title for the first time in their history, with a display for the ages at Dr Cullen Park, Carlow last Saturday.
Super substitute John O'Connor was once again the hero for St Patrick's as he struck for two second half goals that went a long way towards ensuring that his side would claim the cup, but in truth St Pat's held most of the aces throughout the field despite the star studded make up of the O'Carolan side that had hammered every other team on their way to the final.
St Pat's had heroes all over the pitch and none more so than goalkeeper Conor Wilkinson who produced two brilliant first half saves when his side were struggling to keep themselves in the contest. Indeed, there is no doubt that the winners ability to keep an O'Carolan side that had scored twenty two goals on their way to the final completely goal less was a testament to St Pat's defensive brilliance when the pressure was on.
After a nervous opening period for both sides O'Carolan College went into a 0-2 to no score lead thanks to points from Adam Matthews and Declan Reilly before joint captain Cathal McElligott opened St Pat's account in the eight minute.
Both sides were guilty of some poor turnovers, with St Pat's the bigger sinners, and Wilkinson produced his first great save of the game after Ben Reilly was put through and looked certain to score.
O'Carolan midfielder Rian McConnell slotted over a free in the fourteenth minute to push his side 0-3 to 0-1 ahead and with the Meath side ravenous on the breaks St Pat's were really gasping for air and needed to get their hands on some quality possession.
Driven on by the powerful Cathal Brosnan at midfield and with the McElligott twins Jack and Cathal trying their damnedest, St Pat's started to claw their way back into the game. Cathal McElligott scored a fine individual point and then Jack O'Donoghue slotted a free after a foul on the marauding Ruarí Bourke, and suddenly the sides were level.
O'Carolan are a quality side and gathered themselves once more. St Pat's began to struggle on their own restarts and after a fine drive from Killian Smyth, the excellent Rian Stafford pointed. Adam Matthews, a very dangerous corner forward, chipped over another, and then Daragh Kelly reacted fastest when a shot for a point came off the post and he chipped in with a score.
The Leinster champions were rampant now, and worse could have followed on the stroke of half time when Kelly was put through by Stafford, but Wilkinson came to the rescue with his feet this time, to save his side once more. The half time whistle sounded shortly afterwards, and St Pat's were thankful to go to the dressing room just 0-6 to 0-3 down.
St Pat's looked a reinvigorated side after the half time break and came out with a renewed energy and belief. The inspirational Cathal Brosnan got them off the mark within seconds of the throw in and this was followed by a smashing score from Eoghan Shire who was a bundle of energy for the winners.
O'Carolan College struck back when full back Sean Hare popped up in attack to score a nice point, but straight afterwards came a huge turning point for the winners. With Evan Brennan, Ruairí Bourke and Ruairi Brosnan excelling in defence, St Pat's launched an attack following a turnover but as Jack O'Donoghue's shot for a point fell short, John O'Connor showed excellent control to flick the ball to the back of Aron Monaghan's net.
The St Pat's supporters were on their feet but the end to end nature of the game was relentless, and Ben Reilly responded for O'Carolan to level the affair again in the forty first minute. St Pat's gathered themselves once more and struck two on the bounce from Jack O'Donoghue frees, although Stafford replied with a free for the Meath side.
The nature of the game began to change again and O'Carolan sub Conor Owens fluffed a great goal chance, although the dangerous Stafford made no mistake afterwards when he popped over a classy point to level the game.
With only seven minutes left and the sides level the game now came down to who was the bravest. St Pat's hadn't made the long journey to Carlow to come away without the title and launched the move that would essentially win them the All Ireland title.
Cathal Brosnan and Eoghan Shire played a series of mesmerizing one twos to get into the O'Carolan scoring zone and Brosnan showed brilliant vision to spot John O'Connor ghosting behind the cover, and the substitute made no mistake from close range for his second goal of the game.
From the kick-out another sub, Cathal Sheehan, pointed to push St Pat's four ahead and with the game heading into overtime St Pat's now had one hand on the title. Luke McShane put Thomas Conway in on goal, but O'Carolan's Monaghan saved well from the powerful St Pat's midfielder.
Stafford pointed a free for his side to bring it back to three but as O'Carolan desperately searched for a goal to level the game the excellent St Pat's defence stood firm and scenes of unadulterated joy unfolded as the final whistle blew and they were crowned All Ireland champions.
ST PATRICK'S CASTLEISLAND: Conor Wilkinson; Owen O'Connor, Ruairí Bourke, Evan Brennan; Ruairí Brosnan, Jack McElligott, Shane Gilroy; Thomas Conway, Cathal Brosnan (0-1); Eoghan Shire (0-1), Cathal McElligott (0-2), David Horan; Shane Browne, Luke McShane, Jack O'Donoghue 0-3 (3f)
Subs: John O'Connor (2-0) for D Horan (28 mins), Cathal Sheehan 0-1 for S Browne (36 mins), Ciaran Mangan for L McShane (61 mins), Michael Horan for R Brosnan (63 mins).
O'CAROLAN COLLEGE, NOBBER: Aron Monaghan; Cillian Oaks, Sean O'Hare 0-1, Darragh Smith; Ciaran O'Hare, Killian Smyth, Corey Curtis; Rian McDonnell 0-1 (f), Killian Curtis; Daragh Kelly 0-1, Rian Stafford 0-4 (2f), Ben Reilly 0-1; Adam Matthews 0-2, Declan Reilly 0-1, David Curtis
Subs: Conor Owens for K Smyth (ht)
Referee: Shane Corcoran (Mayo)
---
Match Programme
Pick up a copy of the Souvenir Match Programme on the day for 3 euro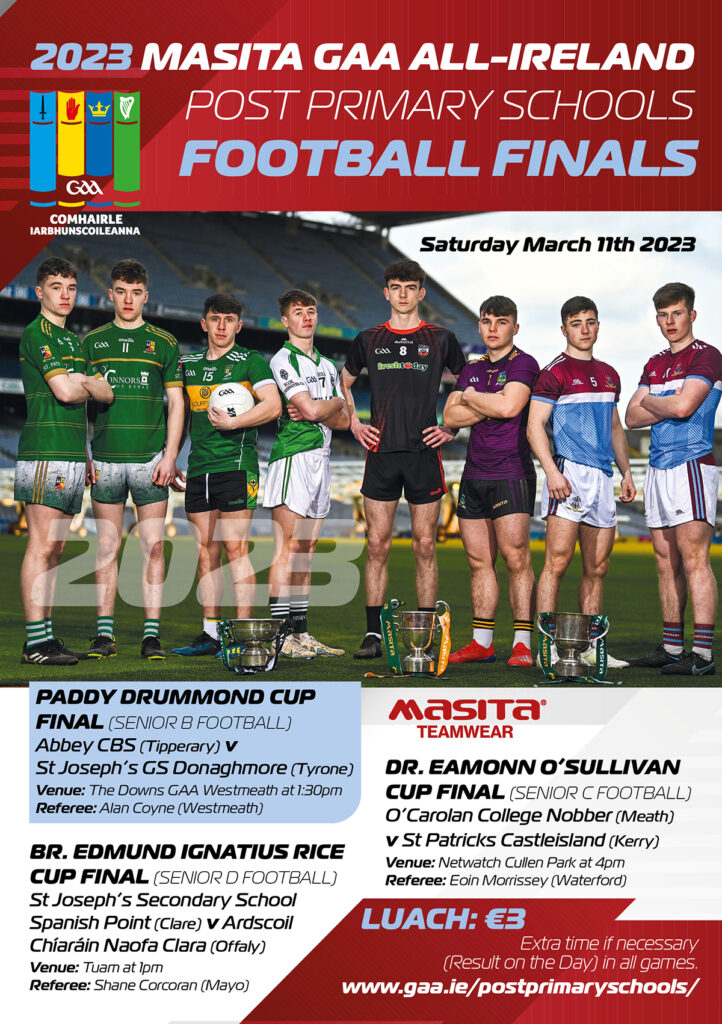 ---
Vibrant links with their surrounding clubs have helped @Kerry_Official school @StStpatricksss maximise their potential and reach Saturday's Masita Post Primary Schools All-Ireland SFC 'C' Final. #GAABelong

— The GAA (@officialgaa) March 10, 2023