St. Josephs Donaghmore defeated Abbey CBS by 2-12 to 0-9 in the Masita All-Ireland Post Primary Schools Final, Paddy Drummond Cup Senior B Football on Saturday 11th of March at the Connacht GAA Centre, Bekan.
---
St Joseph's Donaghmore claim Paddy Drummond Cup after win over Abbey CBS
Paddy Drummond Cup Final (Senior B Post Primary Schools Football)
Abbey CBS 0-9 St Joseph's GS 2-12
Report by Oisin McGovern for the Irish Examiner newspaper
Goals won this this game for St Joseph's of Donaghmore, but the lack of goals could have lost it.
In the end, it was a two-goal salvo from Mattie McNally that saw the 101-year old school to victory over an Abbey School side that fought valiantly but failed to light up the scoreboard.
A Baltic frostbitten Bekan failed to freeze an engaging contest where the momentum swung from St Jospeh's, to Abbey CBS, and back to St Joseph's.
It was certainly St Joseph's who looked the better team in the early stages.
However, two missed goal opportunities kept things honest and kept the Abbey Town flame burning until the Tyrone lads dampened it in the second half.
Cormac Drayne opened the scoring for St Joseph's before the excellent Noah Grimes popped a shot off the crossbar and between the posts.
The daring Tyrone Minor had the Abbey backs sweating when he sold a cheeky dummy before being denied a green flag by a fine save from Robbie McGrath.
Roared on by a green and white army of supporters that wouldn't have looked out of place at Italia '90, the nine-time Munster champions roared back.
Over the next twelve minutes, the Tipperary boys hit four unanswered scores through Shane and Colin O'Grady, Bill Quirke, Conall Grogan and 15-year-old David Ryan.
The loss of their captain Paddy Downey to injury proved a big loss, but the aforementioned Ryan filled the Oola man's shoes capably.
A pair of Noah Grimes frees reduced Abbey's lead to a point at half-time.
Were the missed goal chance spoken about in the Donaghmore dressing room at half-time?
If they were, any such critiques were certainly silenced in the second half.
That was only after Abbey CBS flew out the traps with points from Orrin Jones and Connall Grogan.
All the while, Bill Quirke and Stephen Dee were on top in midfield while corner-back Evan Bonner repelled the worst of Noah Grimes' predatory instincts.
One Grimes free later, and all changed utterly.
By pure accident, a mishit shot from Darragh Doherty trickled harmlessly into the path of full-forward Mattie McNally, who nearly burst the net with the wallop he gave the Size 5.
Frees from Grimes and Ronan Molloy had the Tyrone lads two points to the good before McNally had the ball in the net.
Yet again, another mishit shot – this time off the boot of Noah Grimes – found it's way towards goal where the Carrickmore man was on hand to bundle it into the net.
Abbey's pleas for a square ball were ignored and St Joseph's proceeded to outscore their opponents five points to two in the last quarter.
Scorers for St Joseph's GS: N Grimes (0-7, 4 frees); M McNally (2-0), D Doherty (0-2, 2 frees); C Drayne, Shane Scullion (0-1 each), Ronan Molloy (0-1, 1 free)
Scorers for Abbey CBS: O Jones (0-4, 3 frees); C Grogan (0-2, 1 free); S Dee, B Quirke, C O'Grady (0-1 each).
ST JOSEPH'S GS: L Quinn (Galbally Pearses); J McNally (Donaghmore), B Hughes (Donaghmore), D Doherty (Galbally Pearses); J Rafferty (Galbally Pearses), J Clarke (Donaghmore), C O'Neill (Donaghmore); S Scullion (Derry), J McKenna (Donaghmore); L Hughes (Dungannon Clarkes), N Grimes (Donaghmore), C Sweeney (Carrickmore); C Drayne (Donaghmore), M McNally (Carrickmore), R Molloy (Donaghmore).
Subs: E O'Neill (Galbally Pearses) for Sweeney (47, blood); O'Neill for Sweeney (50); O'Neill for Molloy (54); MJ Mansell (Clonoe) for McNally (57); J Field (Donaghmore) for J McNally (59).
ABBEY CBS: R McGrath (Galtee Rovers); G Cussen (Arravale Rovers), D O'Brien (Aherlow), E Bonner (Galtee Rovers); E Doocey (Arravale Rovers), C O'Grady (Oola), P Downey (Oola); B Quirke (Galtee Rovers), S Dee (Solohead); S O'Grady (Oola), O Jones (Kickhams), L Carew (Aherlow); C O'Dwyer (Galtee Rovers), C Grogan (Galtee Rovers), J ODwyer (Kickhams).
Subs: D Ryan (Arravale Rovers) for Downey (16, inj.); D O'Dwyer (Galtee Rovers) for J O'Dwyer (42); G O'Meara (Arravale Rovers) for Grogan (53); E Kennedy (Galtee Rovers) for C O'Dwyer (55).
Referee: A Coyne (Westmeath).
---
Match Programme
Pick up a copy of the Souvenir Match Programme on the day for 3 euro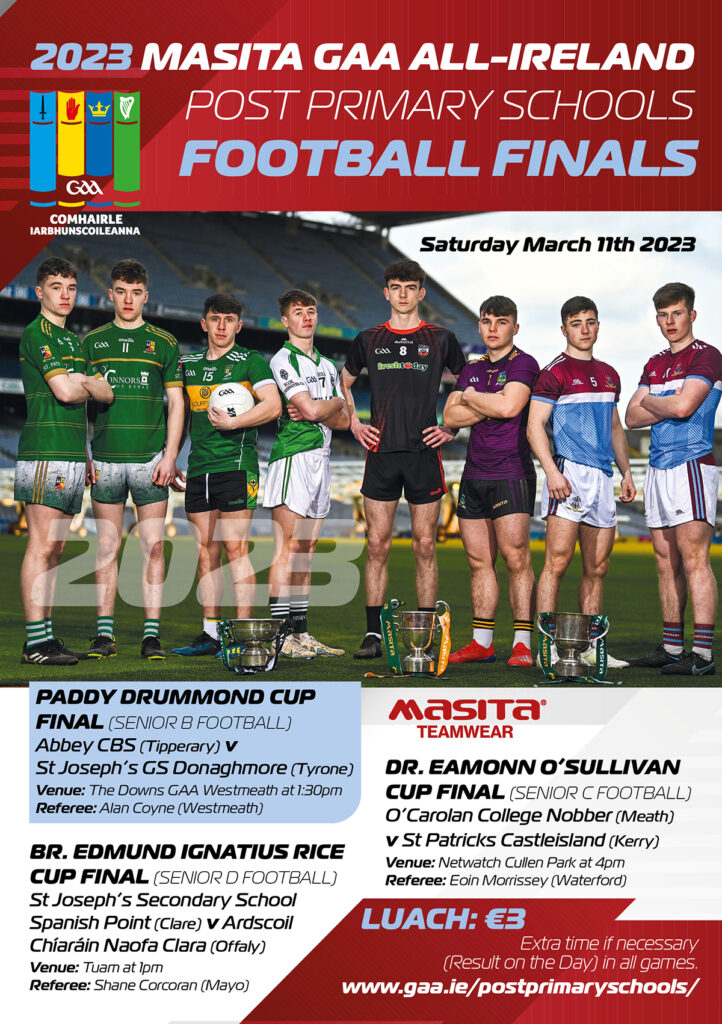 ---
Every match that @TipperaryGAA school @abbeytipp have played to reach Saturday's Paddy Drummond Cup Final has been a battle, and they're ready for another one on Saturday against @SJS41 of @TyroneGAALive. #GAABelong

— The GAA (@officialgaa) March 9, 2023