St Joseph's Sec School, Tulla, Clare 3-21 Presentation Boys College, Mardyke, Cork 1-6
St Joseph's Tulla claimed their second hurling title in this grade in the last three years with a comprehensive win over Presentation, Mardyke on Wednesday last at Ballyagran. The game was played in horribly wet, windy and cold conditions and brought a hugely memorable campaign to a close for the East Clare school.
With Tulla facing a slight breeze, this game was very even in the opening quarter. The Cork City side found their stride quickly and struck the opening goal in the sixth minute through the lively Ronan Power. Points were tagged on by Pres to leave it 1-4 to 0-2 on the quarter hour. Exchanges remained tight and a few Darragh Keogh frees left it 1-6 to 0-4 after twenty minutes. At this stage Mark Howell and Ben O'Connor for the Leesiders had done a share of strong hurling but their influence would wane as Tulla began to exert control in the middle third, led by their captain at centre forward Oisin Clune.
A growing factor in the game was the number of fouls committed by the much physically bigger Cork side. These were punished intently by Tulla free taker Darragh Keogh who hit 11 from 12 on a difficult day for free takers.
Strong play by Clune set up Aaron Curtis for a fine goal on the 24th minute and points from Keogh (2), Curtis and Sean Withycombe left it 1-10 to 1-6 by the 28th minute. At this stage the Cork side were dealt a hammer blow when their centre back, Ben O'Connor, had to leave the field with a head injury.
They suffered a further blow when a free out they had won on their own 21-yard line was over-ruled and thrown in. From the resultant throw-in Clune won possession and flashed the ball across the 21 to an unmarked Colm Cleary. With lots of time the O'Callaghan's Mills player made no mistake and slotted it in to the corner of the net. From the puck out a flowing move involving the O'Connor brothers, Ronan and Oisin, ended with Withycombe firing over the bar from range to leave the score 2-11 to 1-6 at half-time.
---
Click to view photos from the game
---
After suffering a series of body blows coming in to half time things were to get worse when Presentation lost their key danger man, Ben Cunningham, shortly after half-time to injury. The scorer of 1-12 in their five-point semi-final win over Kanturk, Cunningham had been restricted to scoring solely from frees by his marker Darragh Ryan but nonetheless the City team never recovered.
With conditions worsening, Tulla never took their foot off the gas and stormed home for a convincing victory. They were determined to atone for defeats in the Munster Under 15 B Final of 2018 and the semi of the same competition in March 2019. It brings to an end a hugely enjoyable five game campaign with earlier wins over Charleville CBS, Dungarvan CBS, Our Lady's Templemore and Cashel CS.
For the Mardyke school it was a significant achievement to reach the final. In the earlier rounds where they recorded wins over Abbey CBS, Tipperary, St John The Baptist, Hospital and Kanturk.
After the game Eoin Ryan, Munster Post Primary Schools Servicing Officer, presented the cup to Tulla Captain Oisin Clune.
---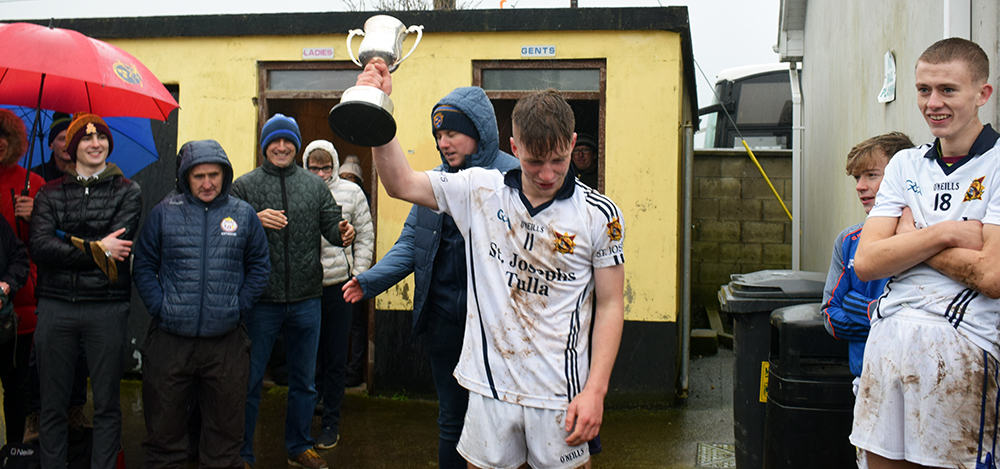 ---
Tulla: Evan Creaven (Doora-Barefield); Fionn Ryan (Tulla), Colin Hogan (Tulla), Eoghan Daly (Feakle); Dara Ryan (Tulla), Evan Maxted (Clooney/Quin), Tony Leyden (Tulla); Ronan O'Connor (Feakle, 1-1), Darragh Keogh (Clooney/Quin, 0-11 frees); Colm Cleary (O'Callaghan's Mills, 1-0, Oisin Clune (Feakle, Captain, 0-2), Oisin O'Connor (Feakle, 0-1); Sean Withycombe (Tulla, 0-2), Aaron Curtis (Tulla, 1-2), Eoghan McMahon (Crusheen)
Subs: Gearoid Vaughan (Broadford) for McMahon, Mick Ryan (Tulla, 0-1) for Curtis, Conor O'Donnell (Broadford) for Withycombe, Lucas Donnellan for Clune, Senan Slattery (Doora-Barefield) for Keogh
Presentation Mardyke: Sean O'Coilean (Bishopstown); Conor Higgins (Cloughduv), James Lynch (Blackrock), Conor Kelliher (Sliabh Rua); Ciaran Sexton (Blarney), Ben O'Connor (St Finbarrs, 0-1), Sean Condon (Bishopstown, 0-1); Mark Howell (Douglas), Vaughan Ryan (Blackrock); Ben Cunningham (St Finbarrs, 0-2 frees), Fionn Coleman (Blackrock, 0-1), Harry Coughlan (Whites Cross); Ronan Power (Ballincollig, 1-1), Rian O'Donoghue (Ballygarvan), Jerry Murphy (Blarney)
Referee: John O'Halloran (Limerick)