Comhairle Iarbhunscoileanna Na Mumhan
Munster Post Primary Schools Committee Report
Sept 2019 – Sept 2020
Overview
The vocational schools and college's GAA competitions are now entering the eight season where the competitions are combined under one controlling body, The Munster Post Primary Schools committee, also known as Comhairle Iar-Bhunscoileanna Na Mumhan. There are over 140 schools participating in 30 competitions. In both codes, hurling and football there are three different grades, 19 (previously 18½), 16½ and 15's. There are 5 divisions (A, B, C, D & E) in each age grade. The 'E' grade has proven to be a big success with the smaller schools and is now well established in the PPS calendar. Due to the combination of both respective bodies, the committee views the coming seasons as crucial to the development and promotion of Gaelic games in post primary schools across the province.
The following report will list the members of the Munster PPS committee and review the activities undertaken by the committee from September 2019 to May 2020. The focus of this report will be an analysis of the competitions at provincial level, listing all the winners of this season's competitions. This report will also review the financial activities for the 2019/2020 season, the media, website and communication initiatives undertaken and will also highlight a grading's conference that has become an annual event before starting the PPS season.
Munster Post Primary Schools Committee 2019/2020 Season
Chairman; Colm Hayes (St. Anne's CC, Killaloe), Vice Chairman; Liam O'Mahoney (Mungret C.C.), Secretary; Declan Fitzgerald (Mungret C.C.), Treasurer; Hugh Flavin (Cresent Comprehensive), Munster PPS PRO; David Minogue (St. Marys Newport). Council Members; Eoin Ryan (Munster PPS Games Administration Officer), Ed Donnelly (Munster GAA Communications manager), Pat O'Shea & Joe Carton (Provincial games managers), Council Member; Mike Nash (All-Ireland PPS and Limerick Representative), Council Member; Ed Cronin (Cork Representative), Council Member; Martin Ronan (Clare Representative), Council Member; Donnacha Hickie (Kerry Representative), Council Member; Kieran Hickey (Tipperary Representative), Council Member; Fintan O'Connor (Waterford Representative)
Servicing officers
Munster; Eoin Ryan, Clare; John Fawl, Cork; Neil O'Keeffe, Kerry; Dermot Weeshie Lynch, Limerick; Eamonn Phelan, Tipperary; Tom Maher, Waterford; Stephen Enright.
National Committee Representatives
The national representatives from Munster are Liam O Mahoney, Colm Hayes and Michael Nash. The Committee have recorded a number of meetings throughout the year and plans on convening once every three weeks for reviews and progress reports on arising issues.
Munster PPS GAA Fixture review and analysis Sept 2019 – May 2020
Munster PPS Fixtures
A
B
C
E
 
Munster
D
Totals
19/20
Senior Hurling
28
25
40
13
14
120
Senior Football
28
10
22
28
21
109
16.5 Hurling
10
20
17
23
15
85
16.5 Football
9
3*
14*
13*
8*
47
15 Hurling
0*
11*
9*
7*
10*
37
15 Football
8
13
24
28
18
91
Total Fixtures
83
82
126
112
86
 
489
Munster PPS GAA Competition winners 2019/2020 ***Competitions not finished due to Covid 19
| | | | |
| --- | --- | --- | --- |
| Competition Name | Grade | Winners | Runners Up |
| Corn an Artaigh | 19 A H | St Flannans | Christian Brothers College, Cork |
| Corn Thomáis Mhic Choilm | 19 B H | Cashel CS | STN Doon |
| Corn Risteard Uí Mhathúna | 19 C H | Col Treasa Kanturk | Scoil Pol Kilfinane |
| Corn Sheáin Uí hAnragáin | 19 D H | Hazelwood College | Colaiste na Trocaire |
| Senior E Hurling | 19E H | Tralee CBS | Mercy Mounthawk |
| Corn Uí Mhuirí | 19 A F | Tralee CBS | St. Brendans Killarney |
| Corn Dhonncha Uí Nuanáin | 19 B F | Pat Academy Mallow | Abbey CBS |
| Corn  Sheáin Uí Mhurchú | 19 C F | Col I & I Abbeyfeale | Gaelcholaiste Chiarrai |
| Corn Sheáin Uí Mhaolomhnaigh | 19 D F | Beara CS | Meanscoil Castlegregory |
| Senior E Football | 19 E F | Gaelcholaiste Carrigaline | Davis College Mallow |
| Corn an Rianaigh | 16½ A H | St Colmans Fermoy | Ardscoil Ris Limerick |
| Corn Shéamais Uí Dhonnchú | 16½ B H | St Josephs Tulla | PBC Cork |
| Corn an Dara Uí Dhonabháin | 16½ C H | St Augustines | Ennistymon CBS |
| Corn Chiaráin Uí Dhrisceoil | 16½ D H | Presentation Ballingarry | Scoil Pol Kilfinane |
| Junior E Hurling | 16½ E H | Comeragh College | Carrigtwohill CC |
| Corn an Fhriúnnaigh | 16½ A F | St Brendans Killarney | Tralee CBS |
| Corn  Liam Uí hUiginn | 16½ B F | *** | |
| Corn Roibeard Uí Bhuachalla | 16½ C F | *** | |
| Corn Seosamh Uí Néill | 16½ D F | *** | |
|   | 16½ EF | *** | |
| Corn Aodh Uí Dhudha | 15 A H | *** | |
| Corn  Réamainn Uí hÓgáin | 15 B H | *** | |
| Corn Shéamais Mhic Ghabhann | 15 C H | *** | |
| Corn Chaoimhín Uí Mhearáin | 15 D H | *** | |
| U15 E Hurling | 15 E H | *** | |
| Corn an Bhráthair Choilm Taft | 15 A F | *** | |
| Corn Éamainn Uí Dhonnchú | 15 B F | *** | |
| Corn Éamainn Uí Mháirtín | 15 C F | *** | |
| Corn Mháirtín Mhic Chonmara | 15 D F | *** | |
| U15 E Football | 15 E F | *** | |
It was a disappointment that we were not able to finish our Un.16 ½ Football and Un. 15 Hurling Munster PPS competitions due to the wholescale school closures arising from the Corona-virus pandemic.
---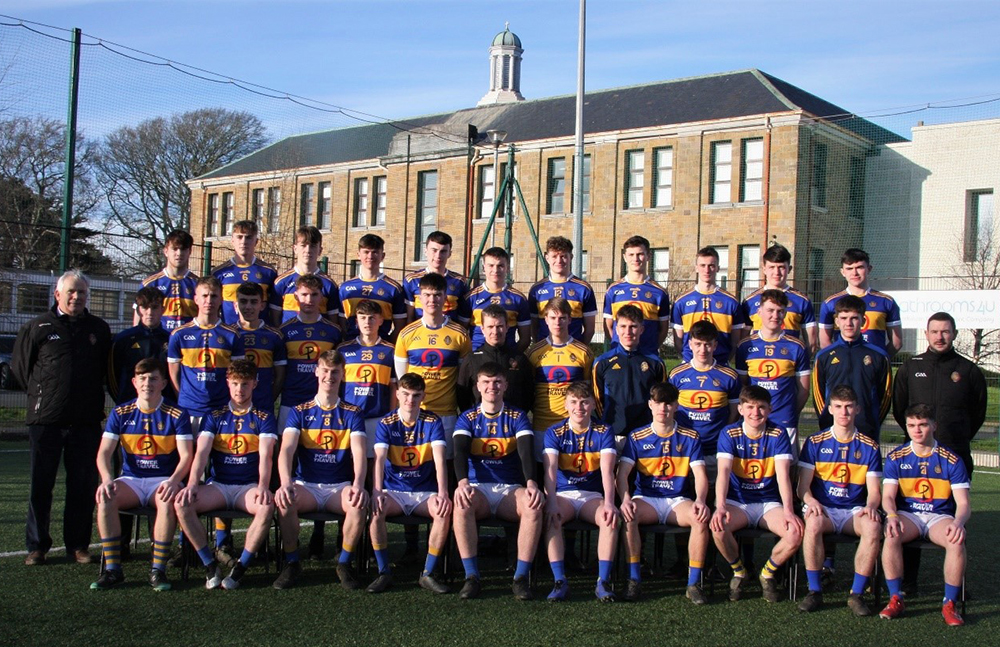 Tralee CBS who claimed the Corn Ui Mhuiri in 2020
---
All Ireland Competitions
We had no more than seven schools progressing to All-Ireland glory when we were unfortunately hit with Corona-Virus pandemic, leading to closure of our schools on March 18th. St. Flannans College, Ennis (Croke Cup), Tralee CBS (Hogan Cup), Beara Community School (Br. Edmund Ignatius Rice Cup) and Patrician Academy Mallow (Paddy Drummond Cup) were all competing at All-Ireland PPS Semi-final level. Meanwhile, Cashel C.S. (Paddy Buggy Cup) and Colaiste Treasa Kanturk (Michael Cusack Cup) were both competing in All-Ireland PPS hurling finals.  Finally, St. Brendan's Killarney were competing in the Paul McGirr Football final. Due to the wholescale school closures, An Coiste Bainistiochta accepted a recommendation from the CCCC that all second level All-Ireland school's competitions be cancelled due to the Corona-virus pandemic which was  disappointing for all concerned.
Financial Report for year ended 31st May 2020
The finances of the Munster PPS are in a healthy and strong position. A total of €20,000 was paid out to schools last year in the form of senior final grants.  Annual grant of €45,000 from Croke Park was received. The Gate receipts continue to be high, with Gross Gates of €73,111 received before field rent & match day costs were paid. The Harty Cup competition being once again the main source of income for the Gate receipts. The accounts are audited by BDO Accountants in Limerick annually.
Munster PPS Media & Communication
For 2019/2020, the website received over 54,400 visitors and amassed over 351,000-page views. The committee facilitated the live streaming of both the Corn Uí Mhuirí Football Final and Dr. Harty Cup Hurling Final. These streams were very well received with over 11,000 and 30,000 views respectively recorded on Facebook. This is a popular initiative for supporters both at home and abroad and is one which we will continue to pursue in future seasons.
The Committee together with our website development partners Layer Design launched a new Munster PPS Website this season which is fully GDPR compliant. New tabs such as the "Competitions" tab, "Info" tab, rules and procedures "Quicklinks" tab and modern "home" tab have improved the user experience for all visitors. One such feature of this site is the introduction of a player "Registration" tab which allows for schools to register their players, ensuring that both the transfer and the storage of player's information can be completed in a fully GDPR compliant manner. This involves a process where teachers can submit and update their squads for registration through the Munster PPS Website.
Our social media platforms are updated on a daily basis. A live Twitter feed is available on the website and the committee has found that this provides an excellent way of sharing information. As articles and information are released on the website, they are also released as a live tweet. We have a large following on Twitter of 8000 members and where possible we try to live tweet from games. Our Twitter account is not just of benefit to schools and supporters, but also to national media who use it to access instant information, picking up results quickly.
In conjunction with the GAA Future leaders transition year programme, this year we offered students in schools the opportunity to write a match report and have it featured on our website. We received a fantastic response to this initiative and the match reports offered supporters an insight into the games. The reports were to a very high standard and credit must go to the students who produced them.
The committee in conjunction with the council will also be exploring sponsorship opportunities based on the website statistics and analytical reports of online activity. The committee will continue the promotion of the Munster Post Primary Schools competitions not alone on the dedicated website but also through social network channels such as Facebook, Twitter and YouTube. We look forward to bringing supporters and followers information on games in the very near future.
Grading conference
Grading's is an area that the committee are constantly reviewing since the amalgamation of both the vocational and college competitions eight years ago. The committee hosts a grading's conference annually before the commencement of competitions. The grading conference was hosted in June last year to adjudicate on schools submitted grading affiliation applications. Each county was represented by two individuals from the school's sector and the findings from the conference were implemented.
It is believed that the accurate recording of all fixtures and results will allow the committee to precisely grade and seed teams for the coming seasons. Ultimately the committee is aiming to make the competitions as competitive as possible for all participants involved. It is viewed as essential to increase participation and standards across the board.
---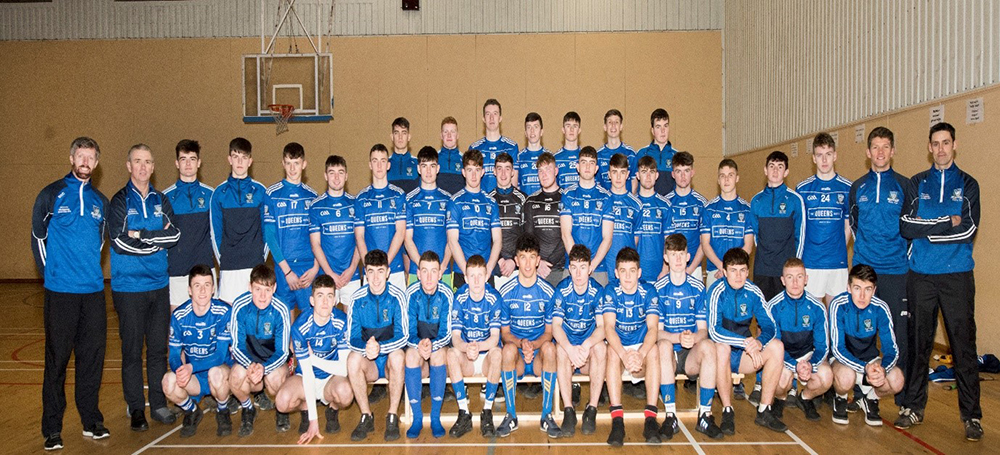 St. Flannan's College, Ennis. – Dr. Harty Cup Champions 2020
---
Míle Buíochas
Comhairle Iarbhunscoileanna Na Mumhan would like to extend its thanks to the Munster council staff for their continued support. In particular, special word of thanks to Eoin Ryan (Munster PPS Games Administration Officer) and Ed Donnelly (Munster GAA Communications manager) for their work. We would like to thank all the members of the committee and servicing officers that work diligently to insure the promotion of Gaelic games in post primary schools across the province. We would also like to extend a word of gratitude to all referees and officials who have taken time and effort in ensuring that the highest standards of refereeing have been applied to all our school games this year. To the teachers, coaches, students, school managements and parents who continue to support the promotion of our Gaelic Games throughout the province at all levels, your contribution is much appreciated. Finally, the committee would like to extend its thanks to the clubs and groundsmen around the province that make their venues available for the hosting of our games, their continued support is greatly appreciated and invaluable to the running of school's competitions.